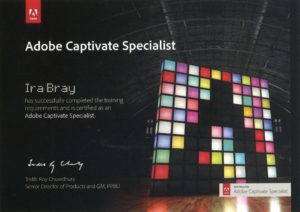 I create library related  e-learning tools. These are short, focused, self-paced modules designed to address specific learning objectives. I use Adobe Captivate as well as other tools to content. For more information email Ira at:      ira at irabray.com/ 
Portfolio
Adobe Captivate Projects
Chronicling America Screencast

 Example of the Use of JavaScript with Captivate

Adobe Captivate Screencast
Adobe Premiere Elements Video
MailChimp Email Marketing:
---
---
---
About Ira
As a Library Consultant with Library Development Services at the California State Library for over twenty years Ira reviewed more than two hundred Library Services and Technology (LSTA) grant applications and monitored successful grants totaling more than four million dollars. He was also responsible for the collection and reporting of public library statistics. While State Data Coordinator for California at the California State Library he managed the yearly cycle of survey design, survey deployment, collection, inspection and review of surveys submitted by one hundred eighty one library jurisdictions with more than one thousand outlets. Current California public library statistics are available here:   http://www.library.ca.gov/services/to-libraries/statistics/
Ira created the Local History Digital Resources Project  (LHDRP) in 2000 as a model to support the creation of and permanent public access to local history digital content through the University of California Online Archive of California  gateway (http://www.oac.cdlib.org) and through storage in the UC Libraries Digital Preservation Repository (http://www.cdlib.org/programs/digital_preservation.html). More information about LHDRP is available at https://www.cdlib.org/cdlinfo/2004/10/14/oac-local-history-digital-resources-project-continues/
In 2005 Ira worked with UC Riverside Center for Bibliographic Studies and Research to create a LSTA grant project for the California Digital Newspaper Collection, <http://cdnc.ucr.edu>. This project coordinated with the Library of Congress National Digital Newspaper Project to digitize California newspapers of historical significance and to illustrate to all libraries in California the best practices for the creation of local historical digital newspaper collections. Content from this project are available at the CDNC
 https://cdnc.ucr.edu/cgi-bin/cdnc  
and the Library of Congress Chronicling America site: 
https://chroniclingamerica.loc.gov/
Prior to his library career he worked for over seventeen years at the University of California, Davis, Instructional Media department. Starting at the audio visual center helping faculty, staff and students with a variety of media tools he finished his U.C. career by helping to develop one of the first computer based recruitment tools for the admissions office to send to interested student applicants.   He then went on to the University of California Berkeley to obtain his Master of Library of Information Studies (MLIS) from the School of Library and Information Studies.
Ira lives in Davis, California with his wife and daughter, cat Boo and dog Roscoe.